A Gold Cot Fit For A Prince (Or A Princess)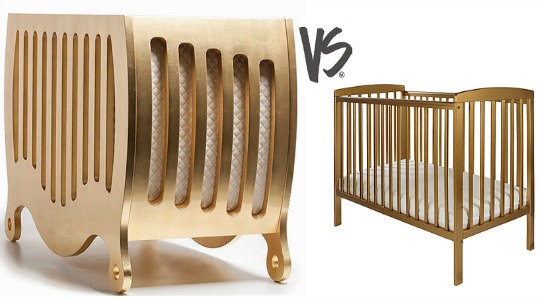 Kate Middleton is soon to birth her second Royal Baby. We don't know the sex of the baby, but one things for sure it'll want for nothing whether it comes out a Prince or a Princess. The Duchess of Cambridge is very down to earth but we can't help but wonder whether they have any extravagances like this Bela Luxury Cot*. Perhaps, they will receive one from a wealthy relative but if we want one it would set us back £34,860.00.
Okay, so I am guessing that 99.9% of us don't have a spare £35k lying about to spend on a cot and those of us that do would we spend it on something so excessive?
I do think it's very regal and cool though with it's gold colour. For those of you who are like me and would quite fancy gold coloured cot then check out this Asda George bargain, here*. Yours for just £69 delivered. Just enter DELFREE at the checkout and get FREE delivery.
Apart from the £34,799 difference in price, how else do the two vary? The Bela Luxury Cot is plated in 18k gold whereas the Asda George one is painted solid pine wood. A Champagne Silk Mattress versus no mattress.
I like the novelty value of the Bela Luxury Cot but for me the Limited Edition Gold Cot by Asda George wins hands down for great value.