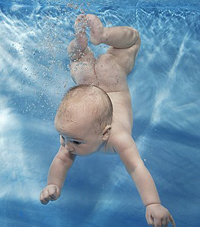 Did you know that the Government launched a free swimming initiative in April 2009 for the under 16s and over 60s?  I didn't!
Four out of five local councils in England have signed up so far; if yours isn't one of them don't worry, you're not restricted to using just your nearest local pool so there's no need for anyone to miss out.
There are so many benefits to taking your kids swimming - it improves confidence, is great exercise, allows real freedom of movement, gets everyone out of the house and it's FUN!
My kids LOVED swimming when they were tiny but going as regularly as they would've liked wasn't always possible because of the cost factor, so this FREE swimming campaign is fantastic news for the health of your bank balance too!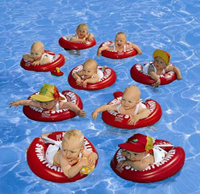 There's no need to wait to take tiny tots until after they've had all their jabs but they will need to wear some sort of swimming nappy; if you shop with Tesco online, they're offering 1/3rd off Huggies Little Swimmers across the range of sizes until 10 February.
Happy FREE swimming!
Thanks to tronic on HUKD