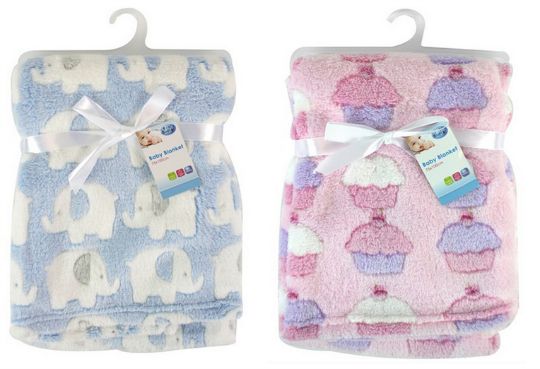 My little Daniel, has a fleecy blanket that we call his 'sooky'. He rubs his face on it, sucks his thumb and relaxes with it. It's a comfort blanket I never want to lose. He relies on it to sleep at night. There's nothing nicer for soft skin than a big fluffy blanket. These 'First Steps' Luxury Soft Fleece Baby Blankets from various sellers at Amazon start from just £2.96 including FREE delivery.
We actually own the 'First Steps' Luxury Soft Fleece Elephant Blanket*. It's so beautiful that I would happily have paid £10 for it. Even after washing it umpteen times, it still looks as great as the day I bought it. Get it for just £4.87 delivered from Amazon Seller 1stopbabyshore. This is the dearest one on the Amazon site.
Check out these cheaper ones: Cute Dots*for £3.40 from Express Essentials, Blue Spots*only £2.96, Cute Hearts* for £3.94, Cupcakes* for £4.37 and Giraffe* for £5.99 delivered from YourEverydayStuff.
These would make great 'New Baby' presents and if you are in doubt then read the 659 reviews on Amazon.