Disney Cars Sleeved Fleece Blanket £5 @ Play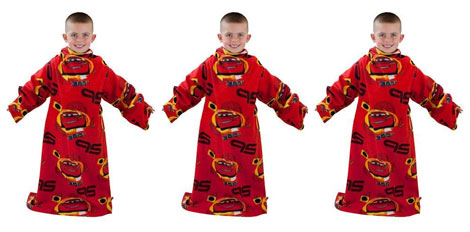 My previous friendship bracelet post was definitely more for the girls; to even things up a bit here's something for the boys.
Play are selling this Disney Cars sleeved fleece blanket for £5, rather than £12.99.
The evenings and nights are definitely getting chilly - it was 8C in my little part of the country last night - and darker earlier.
I'm resisting putting the heating on, in fact I REFUSE to put the heating on just yet and am wrapping myself up in my husband's warm, and cosy, jumpers instead.
This is all well and good for me, but my youngest son has a bit of an aversion to wearing jumpers or dressing gowns to keep warm in the evenings!
I have NO idea why and, both, me and his father have despaired on occasions; this Disney Cars sleeved fleece blanket may just be the way forward.
Basically, it's a blanket with arms which, I think, is a cracking idea.  There are few things worse than having got warm due to being tucked up under a blanket, then needing to take your arms out because you need to hold something.  OR not being able to tuck your arms in, so anything under armpit height is warm and anything over stays chilly.
The Disney Cars sleeved fleece blanket is machine washable up to 40C, can be tumble died, is made from 100% polyester and measures 120cm x 150cm.
The current dispatch time from Play is between one and two weeks.
Thanks to dude78 at HUKD