Chicco Go Baby Carrier £12.49 @ Boots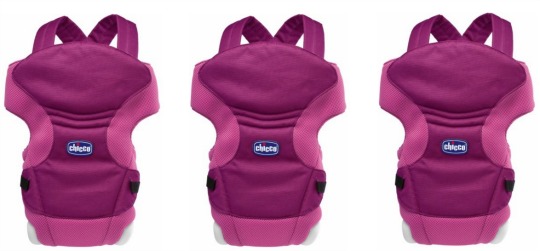 Upon perusing the pages of Boots.com, I found this Chicco Go Baby Carrier. Available in very girly "Fuchsia Wave" or a more unisex friendly black.
It caught my eye as it is sold in various outlets such as, Bambino Direct and Asda Direct for around the £25 mark. Boots.com are selling both colours for a mere £12.49 and the black can also be bought from Amazon at this price.
If purchased from Boots you can get it delivered for £2.95 (£1.95 if collecting from store) or if the black takes your fancy then Amazon are offering free delivery.
I have never been a fan of baby carriers myself, probably due to the fact all three of my babies were 9lb+ bruisers, but I know a lot of Mothers that swear by them. If you use public transport a lot then these really are a Godsend. No more getting stressed out folding pushchairs because there's no room on the bus. Perfect for nipping to the shops and wanting both hands free.
These fold easily for storage, are well padded and are made with breathable fabrics for the safe carriage of your precious bundle.  You can have baby facing inward from birth and once baby gets to about 4 months, outward.
It can take babies up until they are 9kg and has a double zip mechanism so that it can expand as your baby grows.  Straps are thickly padded as to not dig into Mummy or Daddy's shoulders.