Cheap Baby Products @ Boots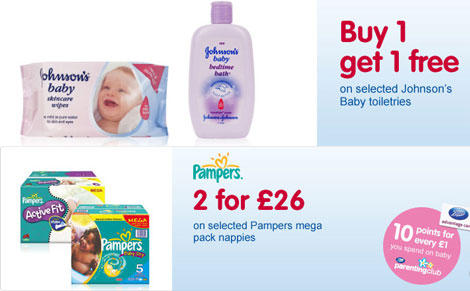 Boots have some great deals running at the moment which means you can pick up a load of cheap baby products - a great time to stock up on wipes, lotions, nappies
Johnsons Baby products have been in my life for as long as I can remember.  My mum used them on me and I used them on all of my children; tried, trusted and loved.
As Boots are currently offering Buy 1 Get 1 Free on lots of Johnsons Baby products, they make it into my 'Cheap Baby Products' post.
There are ton of offers on various brands and pack sizes of Johnsons Baby Wipes AND Pampers Baby Wipes - £8 for four packs of 72 wipes across both ranges can't be bad;
Continually buying nappies for your baby can be expensive, which is why Boots has some great offers on Pampers Nappies
If you're not a brand name person, and are happy to go with Boots own label cheap baby products, then they have a rather wallet friendly buy 2 for £2.50 offer on a range of selected items from their own range of baby toileteries.
There are lots of other baby bargains to be had over at Boots so go and bag yourself some cheap baby products; you'll also stack up Advantage points too if you're a card holder.