Buzzing Brains Tiny Steps Walker With Shape Sorter Activities £6.99 @ Kiddicare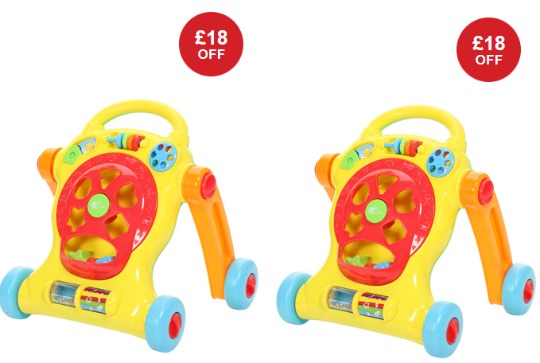 There's a whopping £18 off this walker and it's reduced from £25 to just £6.99. Actually Kiddicare, you're a penny out there, it's £18.01 but we'll not split hairs. Delivery will cost you £2.99 unless you spend £29.99 or more which is quite easy to do on Kiddicare, especially in the clearance section*.
The RRP on this may be a little ambitious at £25 but even on it's own and including the delivery charge you're still getting a pretty cute walker, with good reviews, for under £10.
While the rattler on the front may become rather annoying after a while, I do particularly like the shape sorter and counter on this. It's definitely bright and colourful which would have appealed to my daughter at the relevant age.
I mentioned the reviews above and here's what one buyer had to say:
My son is nearly 10 months and prefers to stand so I bought this for him to encourage him to use it to support himself and actually start moving his legs rather than them being so stiff! He loves everything on the front, there's so much there to keep him occupied. At the moment he's just throwing the shapes rather than sorting them but he likes to watch me do it so I can see that he's learning. Highly recommended, I can't wait for him to be able to use everything independently.
Remember to check the rest of the clearance section* too before you checkout.