BIG Savings On Sainsbury's Nappies: Jumbo Packs £5, from 6p per nappy!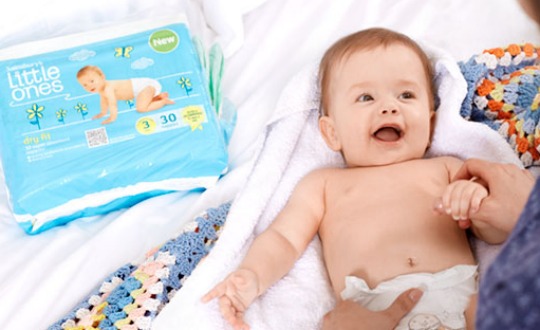 We have another great reason for you to pop to Sainsbury's - they are clearing out some of their own brand nappies at fantastic prices, and the good news is that this is online and in stores.
The big Jumbo Packs of Sainsbury's Dry Fit Nappies are down to £5 per pack, making the price as low as 6p per nappy! The Eco Nappies are also massively reduced and are now as little as 7p per nappy. Here are the ones that are showing as reduced online:
Sainsbury's Little Ones Dry Fit Nappies, Jumbo Packs  - now £5
Sainsbury's Little Ones Dry Fit Nappies, Midi/Maxi Packs - now £4.50
Sainsbury's Little Ones Eco Nappies - now £1.75 / £2.25
All of these packs work out at less than 10p per nappy, with prices from as little as 6p per nappy with those Jumbo packs! They have been found in stores, although some have only found empty shelves where these nappies once were... I would think people are grabbing all they can at these prices!
If you shop online at Sainsbury's then you can place an order for these with your groceries, but whether your local store will have any stock I can't say.
Either way these are definitely worth stocking up on, as anything better than 10p per nappy is a cracking price! Those shelves will be cleared quickly though so don't hang about! Good luck!
Thanks to kerryallman @ HUKD