BabyStart Wooden Highchair £24.99 @ Argos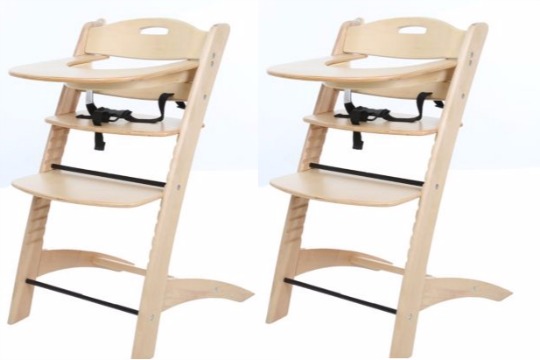 We go over to my mum's to eat a lot. She does do a mean chicken and spinach curry. The thing is my 16 month old son is just too little to sit on a chair and we have a fabric booster for him, but he is too boisterous in it and nearly tips the chair. This has made me look for an affordable highchair for at my mum's house. Argos have the BabyStart Wooden Highchair for £24.99, reduced from £49.99. Cheap for a highchair, I am sure you will agree.
The BabyStart Wooden Highchair has four seat positions and the footrest is fully adjustable too. This means that the highchair can be used as your child grows. It comes with a removable wipe tray too.
The beauty of this wooden highchair is that it can go from highchair to a junior dining chair or low chair. For just under £25, I would say that's good going.
Babies from as young as ten months through to children weighing a maximum of 25kg can use this BabyStart Wooden Chair.
You can Reserve and Collect the BabyStart Wooden Highchair for FREE from Argos or pay £3.95 to have it delivered to your front door.