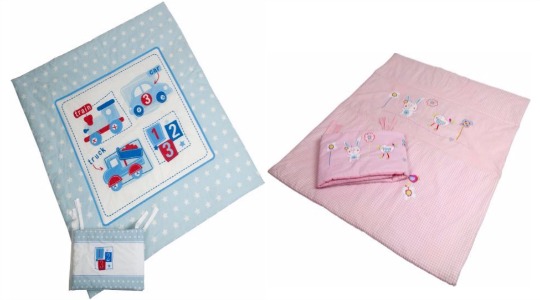 If you have ever had to buy bedding for a cot you will know how expensive it can be. I spent an absolute fortune on my youngest son's cot. The thing is it gets washed a lot after all, nappies leak and babies puke. Argos have a couple of cot bedding bargains at the moment. The Toybox/Bunny and Chick Cot Quilt and Bumper Sets are reduced from £26.99 to £12.49.  That's a £14.50 saving in total.
Both the My Toybox and the Bunny and Chick Cot Quilt and Bumper Sets are highly rated on the Argos site. I reckon that makes these a real good buy. At £12.49, I wouldn't be expecting much quality-wise but the reviews suggest otherwise.
The quilt in both sets is a Tog Rating 4. Which means it's not the thickest but is cosy enough for little bambinos. I actually prefer to layer my baby up in case he gets too hot.
These bedding sets are recommended for babies aged one years old and over. It would be your choice of course whether or not to use the cot bumper at this age. The best bet is to ask your health visitor as there's so much conflicting advice about cot bumpers.
You can Reserve and Collect these Quilt and Bumper Sets for FREE from an Argos near you or pay £3.95 for home delivery.
Thanks to millarcat @ HUKD