Baby Freebie: Free Baby On Board Sign @ Atlantic FM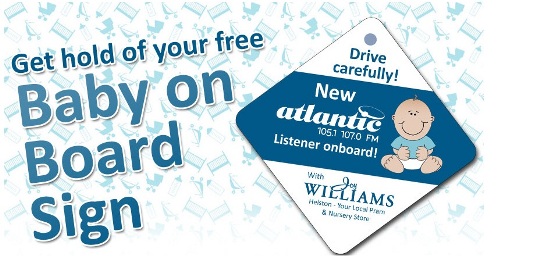 Atlantic FM is offering you a free Baby on Board sign that you can either collect from a specific store or get sent in the post to you. These limited edition Baby on Board signs are very cute but are smothered in advertising.
The radio station is celebrating the fact that many of their staff have gone and had babies recently. These signs were originally created, I believe, to alert other drivers to the fact that there is, well, a baby on board and hopefully encouraging them to drive slowly nearby.
Whether or not these signs work is up for debate but why worry when you can install yours for free? The sign comes with a suction cup at the back to attach to the screen and you can either pop into Joy Williams in Heston (a local store) or you can fill in the online form to get one posted to you. Happy freebies!
Thanks to Spyder027 at HUKD!