Baby Blooms Chocolate Hearts and Flowers Bouquet Review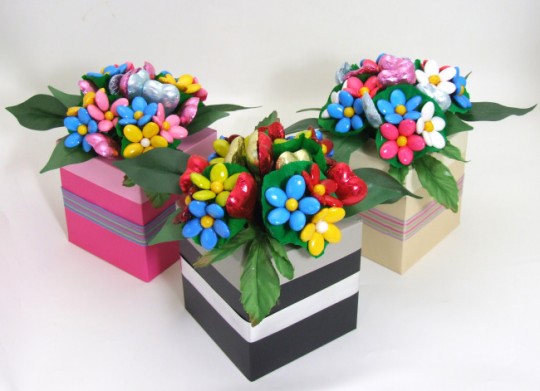 Flowers are great, and chocolates are great. So something that brings the two together can only be a winner, right?
Absolutely, and in the Baby Blooms Chocolate Hearts and Flowers Bouquet (RRP£34.99) you've got exactly that – a beautiful arrangement of colourful flowers that you can munch on.
Baby Blooms does loads of different baby and pregnancy-related gifts, and their selection of stunning baby clothes bouquets are a perfect blend of practical and beautiful – just right for an expectant mum.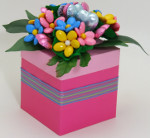 The chocolate bouquet is a similar concept, but instead of the flowers being composed of baby clothes, they're edible, and are interspersed with a decent number of wrapped chocolate hearts too for good measure.
The flowers are made up of six petals made from hard sugar-coated chocolate arranged around a little wrapped sugar ball. Each element is wrapped tightly in coloured cellophane along with a length of wire, then these are tied together with string, forming a multiple-wire "stem" that is arranged in florist's foam just like a real bouquet of flowers.
In between the flowers are pure chocolate heart lollipops wrapped in foil, while some artificial green leaves (not edible, sadly!) are interspersed throughout and the whole thing arrives in a ribbon-wrapped square box to complete the picture visually.
With concepts like this, so often the idea of what it could be differs quite a bit from what you end up getting, but as with the baby clothes bouquets, Baby Blooms has absolutely nailed the concept of an edible bouquet.
The sheer amount of work that's been put in to make sure the end product delivers from a believability point of view can't be missed, and in fact it's almost frustrating just how hard you have to work just to give your gift a taste.
It's worth pointing out at this point that a lot of that hard work involves untwisting bits of wire, and Baby Blooms' warning that this is not a product suitable for children is worth heeding. I'd go even further and suggest you yourself take care when taking apart your edible bouquet – you could easily jab a finger on one of the wire ends, and wouldn't want to leave any lying on the carpet for younger hands to get hold of.
As for the actual taste of all the edible goodies on offer, I've left that till last because it's probably the least impressive aspect of the entire product. That's not to say any of it is sub-standard, but it doesn't match the care and quality that's gone into the rest of the bouquet.
But let's face it, this isn't about chocolate or sweets – for this price you can get far more chocolate than is on offer here – and better quality too.
The Chocolate Hearts and Flowers Bouquet is about giving something special to someone special. It's about the reaction and appreciation for what is a well made and beautiful gift. The fact that you can eat most of it is a bonus. It's just a pity they haven't gone for a slightly better quality chocolate.
The Good
This bouquet is really beautiful

It's a unique and different gift, I haven't seen it before or elsewhere, not like this, at least. 

There's so much care and attention to detail that's gone into the creation of it.

It looks a little like something from The Sims, which appeals entirely to my nerd side. 

It's a tasty-enough treat.

You aren't physically able to gobble it down in one sitting. 
The Bad
You aren't physically able to gobble it down in one sitting, because it's quite a job to unwrap each beautiful petal.
It's quite expensive for the amount of chocolate you're getting, you're totally paying for the workmanship, which you then destroy.
The chocolate isn't the best there is, in my opinion.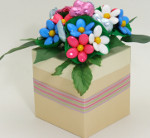 The Verdict
I think it's a gorgeous idea, and just like I loved the Baby Blooms clothing bouquet, I love this one too. I'd probably prefer this one, since it's so unique, although not as practical as a clothing bouquet.
I received a clothing bouquet from my husband's work after our first child was born, and I think that's the perfect sender for a gift like this. It's impersonal enough to not be in your face, but thoughtful and unique, interesting and nice enough to make you sit up in your baby-haze and actually recognise it for what it is, and enjoy every moment of it.