Asda Baby & Toddler Event ONLINE NOW, In Stores Monday 24th August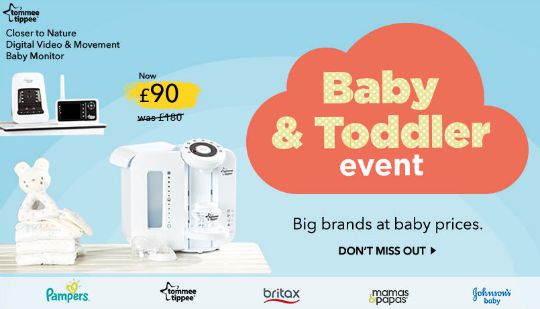 The confusion over the dates for this event has driven me potty, so I'm really sorry about this! We were told that the date was today Friday 21st August, then the Baby Club email came out saying it was from tomorrow Saturday 22nd online so I changed the date. Then I've just logged on to look for deals and it's started online now!
The Baby & Toddler Event is online at Asda George NOW, and in stores from Monday 24th August. Confirmed, official, not changing this time, promise.
There are tons of the usual fantastic offers, and as always Asda seem to have beaten all the competition with their prices and offers. If you need anything at all for maternity, babies, toddlers or young children then this Baby Event should be the first place you check.
Here are a few example offers:
Tommee Tippee Closer To Nature Bottles x 6 - £10
Tommee Tippee Digital Thermometer - £18
Tommee Tippee Sangenic Nappy Disposal System - £10
Huggies Pure Wipes 10 Pack - £6
Pampers New Baby Size 3 Nappies Jumbo Pack - £8
Red Kite Push Me Buggy - £35
Kinder Valley Kai Compact Cot - £49
Kinder Valley Kai Cot Bed - £69
Bright Starts Bouncer - £10
Tommee Tippee Explora Baby Food Blender - £10
Tommee Tippee Explora Feeding Spoons - £2
8 Pack Patterned Bodysuits - £7.50
4 Pack Dribble Bibs - £4.50
4 Pack Sleepsuits - £7
Bright Starts Play Gym - £16
Motorola Digital Video Monitor - £55
Munchkin Baby In Sight Car Mirror - £7
Lindam Nursery Night Light Set - £7
Steady Potty  - £3.50
Hooded Towels - £5
We already told you about those amazing £60 prices on the Tommee Tippee Perfect Prep Machine and the Rainforest Jumperoo, as those were part of the Early Bird Offers.
These are just a few of the 350 or so offers that are in the Baby and Toddler Event online at Asda George, plus there are lost of nursery furniture deals, toys, bedding, travel equipment and lots more.
Apart from the larger pieces of furniture most things can be collected from stores for free, or home delivery charges are from £2.95. From Monday many of these offers will also be in stores subject to availability.
Once again, apologies for the conflicting dates that I passed on from Asda, but the event is definitely online now!