Up To 35% Off Baby Travel & Summer Essentials @ Amazon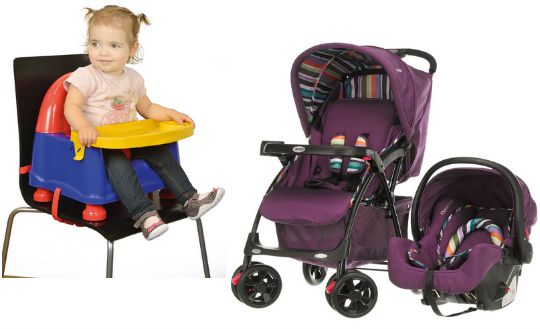 Travelling with baby requires oodles of luggage but all the travel equipment need not cost you £££'s. Make the most of Amazon's 'Deal of the Day' and save up to 35% off those Baby Travel and Summer Essentials. There's a mixture of bits and bobs reduced but check those Amazon sellers prices as some are less than Amazon themselves.
A travel booster highchair is one of the most handy pieces of baby equipment you can buy. It's not only handy for holidays or indeed the summer, but super for at Granny's house or anywhere else where you need a highchair. This Safety 1st Easy Care Swing Tray Booster Seat* is only £10.99 in Amazon's 'Deal of the Day'.
If you need a light stroller for on your holiday (and after) then this Chicco Liteway* is only from £79.99. Whereas, it's from around £100 elsewhere.
Planning a long car journey? This Diono Travel Pal In-Car Organiser* is now only £8.99 and will help keep the kids in order. Use it to hold drinks, books, tablets or whatever else you need to keep the kids entertained.
You can get FREE delivery if you have Amazon Prime or you spend £20 or over. If you don't have Amazon Prime, or want to spend £20 then it'll cost you £3.30.