How many nappies does a newborn baby need? The truth is way more than you'd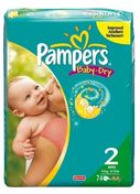 expect. Which is why it's great news that Boots are doing a 3 for 2 deal on selected Pampers nappies right now.
For some inexplicable reason it's impossible to link to all the Pampers items in the range that are part of this deal but if you follow the link above you'll see the 3 for 2 button which will take you to the deal.
Included in this offer are the Pampers Baby-Dry nappies, which have a unique extra sleep-layer to lock wetness away for up to 12 hours, so your baby gets the sleep he needs to develop. Pampers Baby-Dry is a said to be a great all round nappy suitable for use across a baby's nappy lifetime. The smallest size in this 3 for 2 offer seems to be 'Size 2 Mini' which is suitable for babies that weigh between 3 and 6kg or 6-13lb so they're probably a safe bet to stock up on if you're expecting a delivery from the Stork sometime soon!
Since these are usually £8.99 for a pack you'll get 222 nappies for £17.98. That's A LOT of nappies, even for a newborn!