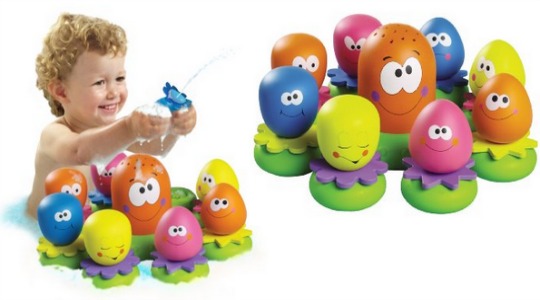 Bathtime is so much fun for little ones. My children all try to pile in the bath together. Bath toys are what put the hilarity into bathtime. The Tomy Aquafun Octopals is a bath toy that is VERY popular. It normally sells for around the £10 mark but Argos have halved the price down to just £4.99 and Amazon have kindly price matched.
The Tomy Aquafun Octopals has a mummy octopus in the middle and she is a pouring toy. The whole unit floats which is what you need when it comes to bath toys. For £4.99 it's quite a big toy, much bigger than most bath toys.
All eight baby octopuses, octopi, octopussy (whatever the plural of octopus is) can be removed and stuck to your wet wall or tiles in the bathroom. They are like suction cups so when wet they stick on super. Squeeze the body of them and they will squirt water out.
You will get soaked, kids love squirty bath toys but what they love even more is to drench mummy and daddy with their dirty bath water that they have more than likely piddled in. This is a great present for a little one.
Buy it from Argos and you can reserve it and collect it for FREE. To get FREE delivery from Amazon you must spend another £5.01.