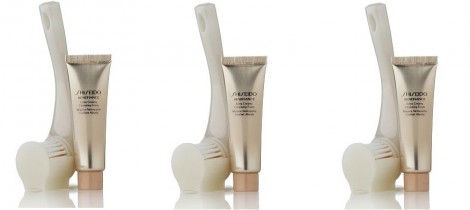 I was quite excited when I got my Shiseido Benefiance Cleansing Massage Mask Brush from QVC as it came with a cleansing foam and apparently has all sorts of skin benefits. The kit is expensive, though, at £21 for a tiny bottle of cleanser and a fancy facial brush.
So, I was already sceptical when I opened it. Why was this worth £21. The short answer is that it isn't. The brush is truly lovely, don't get me wrong. It has the softest bristles I have ever felt and it cleans like a dream.
The outer ring consists of long, soft bristles, and the inner ring of massaging nubs that improve circulation and feel heavenly on your skin. The brush also comes with a detachable head that clicks on and off for when it is not in use, allowing for water to drain off the brush keeping it dry and mould free.
The cleansing lotion bottle is tiny; however you only need a miniscule amount to create a thick foam that will clean your entire face. I squeezed a little onto my hand, rubbed the damp brush into it, and then applied it to my skin.
It went on beautifully. It is really luxurious and my skin felt very clean afterwards. The only complaint I have is that it really dried my skin out. I have had to apply an extra layer of moisturiser to keep my skin from feeling tight and stretched. And I had a bad breakout for the first week after using it which may, actually, be a good sign, showing that it really did a thorough job of cleaning my skin.
It would make a lovely gift and the brush is divine but the price tag is a tad too high for my taste.