Radox Uplifting And Radox Revive Shower Gel Review

After our review of Radox Muscle Therapy a couple of months ago, they have sent us two more brand new Radox Shower Gels to review. This arrived by post, and as I opened the envelope I was met with a beautiful scent of grapefruit. I knew what it was before I even opened the parcel fully, because the smell was so amazing and identifiable.
Radox sent us the new Radox Uplifting pink grapefruit and basil shower gel*, and the Radox Revive shower gel, a mandarin and lemongrass* scented product.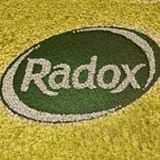 I don't know if I've ever gushed about a a shower gel before, but quite frankly, the Uplifting pink grapefruit and basil is amazing. The scent is strong, but not overwhelming. It makes the bathroom and with it the house smell fresh and beautiful, like cakes, but without the sugar hangover. I don't think there are enough words in the English language to express how yum this shower gel is. I even walk to the bathroom to have a whiff of it sometimes. 
As a shower gel, it is lovely too. It has SLS in it, so it froths and foams a lot, and a little goes a long way. It is smooth on your skin and my husband said it left him moisturised - I'm always tight skinned after a bath or shower, no matter what I use, so I'm not a good judge.
I feel a bit bad for leaving out Radox Revive so far. There's nothing wrong with it, and actually it has a lovely, fresh and somewhat invigorating aroma too, but for me it pales a little in comparison. It is very mandarin-ish though. You could use it as a Christmas room deodoriser. The blend with lemongrass is highly effective in providing a refreshing, reviving fragrance though.
This isn't particularly new, but I do love the Radox shower gel bottle. It has a colour matched lid and hook, which clicks on to the top (or the bottom) of the bottle. This unclips with a bit of effort, and hangs on whatever you have in your shower - your shower curtain rail, your tap, or your toiletries holder. It's pretty cool.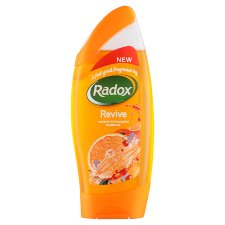 As with all Radox products, they are pretty chemical heavy, so do test them before your first use just to make sure, especially if you're using them on children.
If you are, both shower gels also make pretty good bubble baths, particularly because they make loads of bubbles.
Both fragrances sell at Tesco for £1.90, although they've been on offer at £2 for 2, which is a steal, really. They last for a while, so it's a very cheap way to make sure you get to relax, restore, revive and feel uplifted.
Having a nice bath or shower in itself can make you feel those things, but these beautiful fragrances can't hurt. I know Radox Uplifting makes me feel happy, just breathing in it's smell!
The Good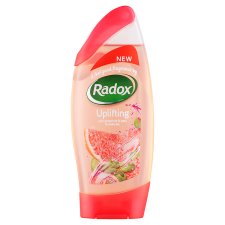 Radox Uplifting and Radox Revive are incredibly cheap. Less than £2 a bottle and on offer at £1 each? Bargain.
The aromas are amazing.
There's nothing wrong with taking a few minutes for yourself from time to time and these are a great excuse to get in the bath.
The Bad
Not a whole lot, unless you have a sensitive skin or allergies, but the majority of the population don't!
The Verdict
Well, I think you may have gathered that I quite like the Pink Grapefruit and Basil, and the Mandarin and Lemongrass is also quite lovely, and certainly seasonally appropriate.
Pricewise you can't really go wrong, and if it's a little R&R you're in need of - rest and relaxation, that is - then this can really only aid that process.