Oriflame Baby Care Review

Oriflame is a Swedish, natural, innovative beauty brand that is sold through consultants and online. It's my favourite of all the bath, beauty and baby skin care products we've reviewed so far this year, and it is a surprisingly affordable product too.
We were sent the Baby Talc, Baby Hair And Body Wash and Baby Moisturising Cream to review, so read on to see how we got on with this still highly unknown brand.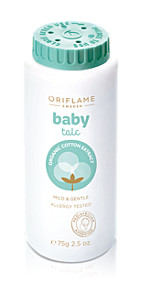 I'll start with the one we used least - the Baby Talc. Seriously, what do people use this for? I'm in my fourth year of parenting, and we've been using nappies, creams and all sorts in that time and I still don't know what baby powder is for, beyond sprinkling on your mattress to hoover up wet patches. For that, the Baby Talc from Oriflame works really well and leaves your bed smelling lovely and fresh again.
The 75g bottle costs £2.75. The website says that it creates a friction free layer when put on dry skin.
The talc comes with a sealed layer that you have to pierce to use, so you need something sharp to do that with. It smells lovely, fresh, like babies. It's rather lovely, actually.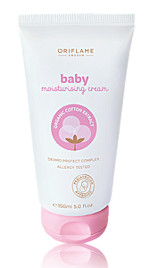 The next product is the Moisturising Cream. This is gorgeous. Oh, I love it. I love it so much I use it on myself. It is really beautiful. It leaves your skin your baby's skin soft, smooth, moisturised. It's like having a matt finish on a picture, but in real life. I know they call it a 'natural' product, but that's a bit of a stretch really.
It is full of unpronounceable names, but it feels so much more gentle than most products I end up not using, especially on my kids.  I often find that cream, even if it's pediatrician approved and dermalogically tested, and tear free and allergy tested, as these are, burn my skin upon application. This cream doesn't do that.
The 150ml tube costs £4.95, but it's a smooth and rich cream, without being very thick and a little goes a very long way. I'm really impressed with this stuff. As you can imagine with all the product reviews we do, I rarely need to buy cream, but this is one I would actually buy again.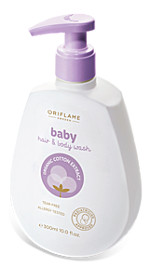 The Hair and Body Wash is another great product.
This is a tear-free allergy tested formula and while it's not exactly chemical free, it's so much nicer and another very well known 'no tear' formula that's commonly given to children. The 300ml bottle has a pump action nozzle which is great for bath time, since if it falls in the bath while you're holding your little one, you're not going to have a body wash full of water. It's really useful. 
Another thing I kind of like about this product is that it has no scent. Despite it's lilac colour, it's not a lavender wash. I can't quite place the scent, but it's unscented and it's nice. Very fresh. Perhaps it's the cotton extract that makes it smell like that. Either way, it's nice.
At £4.95 for 300ml it's probably more expensive than some of the chemically laden rubbish that you can buy, but when dealing with the delicate skin of a child, I would rather pay more, especially with a product that lasts really well. A small squirt is all you need on a face cloth or in your hand.
The Good
An organic, pedatrician approved, allergy tested, tear free product that is affordable. 

It's really lovely, leaving your skin soft, clean and fresh feeling

Convenient sizes for travel or home

Easy application

For me and my easily irritated skin, this is still a lovely product. I'm happy to use it on my daughters. 
The Bad
There are still chemical ingredients in these products, but for most of the world that's not a problem.
The Verdict
Each product is lovely in it's own right, and if you were looking to make up a gift basket you can get all these for under £13 or look at the website for some other options. I would be really thrilled to get this as a gift for a new baby or to use on my growing little ones.