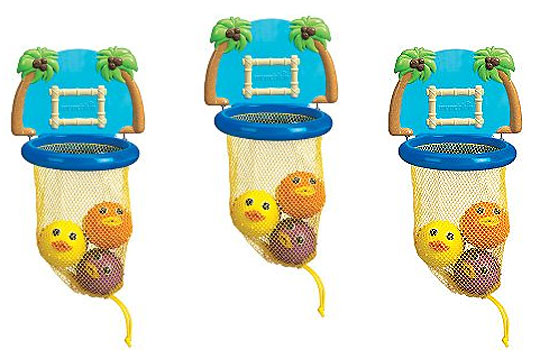 These Munchkin Bath Dunkers bath toys look like LOTS of fun and are only £4.99 at Asda, rather than £8.60.
Bath time was fun when I was little; lots of role playing went on - making cakes from bubble bath, swimming the English Channel and that sort of thing - but now I get proverbial itchy feet just lying in the bath.
My husband says I should use it as a way to unwind and relax (the way he does) but sitting still doing nothing isn't something I do very easily - I'm telling you, I need these Munchkin Bath Dunkers to amuse myself whilst I 'unwind and relax'.
Forget them being a kid's bath time toy, featuring three round, comedy squirting fish and a basket ball type hoop to shoot them into.  If these Munchkin Bath Dunkers were in your bathroom, tell me you wouldn't be playing with them with just as much as your kids would.
If you really can't get yourself to an Asda to collect your Munchkin Bath Dunkers for free, then you'll have to arrange for home deliver and pay an additional £2.95.
Thanks to lucerysmum at HUKD