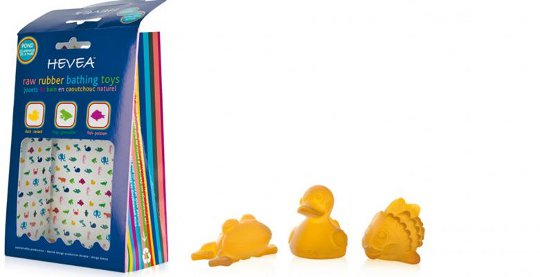 Bath time has always been a favourite play time in our house, and I'm not convinced that it plays part in the 'bed time routine' as it seems to be massively invigorating if anything! We also have more bath toys in the bath than toiletries, and we've recently added to them with the Natural Rubber Bath Toys from Hevea.
The Pond is a set consisting of a duck, fish and frog, and they've been great fun at bath time as we've talked about the animals they represent, had great fun splashing as the frog leaps and made bizarre noises that I'm sure the critters themselves would be proud of.
I was initially unconvinced that these would go down well. They have only natural rubber colouring, don't squeak ad don't spray water. I just didn't see them being much entertainment. My two year old saw it differently though. In fact for the first week of having them in the bath, none of the other toys even got a look in.
Personally, I love that they are PVC and phthalate free, and have no nasties leaching into the water and it's fine if they go in her mouth.
They're made from sustainable rubber trees and produced in Spain,  and they won't be in landfill decades after we're gone – in fact as a natural product they probably won't outlive us.
As a mum, I love that they have no hole in the bottom, so they don't suck up water, meaning if they're left unplayed with for a few weeks, I'm not going to find gross green water in them.
The packaging is recyclable, and can even be used to make cut outs, so there's another activity in the box itself.
I'm really pleased with the Hevea Natural Rubber Bath Toys. They have a nice smell, are natural, good for the environment, and have no negatives for my child.