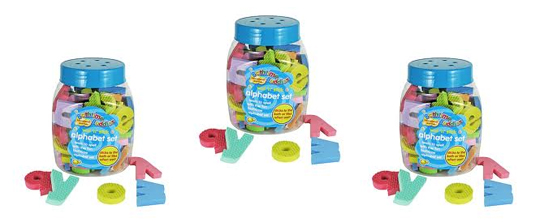 My youngest practices his spellings, with his dad, in the bath using these foam alphabet bath letters - they're just great for helping really young ones learn their first words, and for older ones with spellings to learn.
They're made of foam (you'd never have guessed that from the title, I know!), you get 65 of them and have been a fixture in the bathroom for almost as long as Edward's been around.
They float, so there's no scrabbling around under the bubbles to find them when bath time is over, and can be scooped up with the tub - the lid has holes in it, so you can scoop, put the lid on then turn the tub upside down and drain all the water out; marvellous.
I had a quick look around the internet and Wilkinsons win the prize for the cheapest set of foam bath letters on the market at the moment, they're just £2; the next cheapest price I could find was £9.75 on eBay.
Keep your foam alphabet bath letters cheap by arranging to collect them in-store for free, otherwise you'll be paying £4.95 for home delivery.
Happy spelling out words in the bath!