Dove Pro-Age Hand Cream Review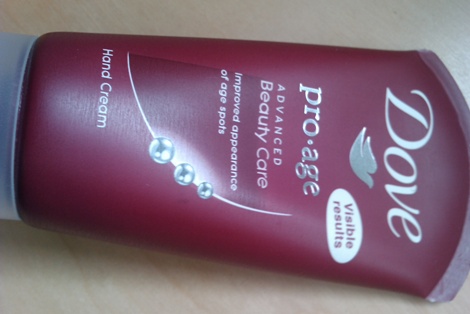 I'm a huge fan of anti-aging lotions and tend to ignore the media hype about them not working (except for the Boots one apparently) because, whether psychosomatic or not, I've found that some of them really do work.
Recently on a big shop at Tesco I found that they were having a massive sale on the entire Dove Pro-Age range of products so I decided to get the body lotion and the hand cream.
My hands tend to edge towards dryness and I have suffered from really bad dry skin in the winter, so I'm constantly looking for a hand cream that will ease the dryness without being too oily.
This Dove hand cream boasts that it will reduce the appearance of age spots and wrinkles and that it is enriched with all sorts of magical things. Apparently the AHA removes dull surface skin cells and then the Vitamin B3 gallops in to improve skin tone, while the lipids improve elasticity.
Now, I don't have age spots yet so I can't tell you if that works, but I can say that I rather love this Dove Pro-Age hand cream. It smells delicious for starters. And rubs on verrry smoothly. Although, and I say this with all creams, it takes a while to be absorbed.
I tend to put mine on in the morning, once or twice during the day, and last thing at night. I even tried the mad "put loads of cream on and then your gloves and sleep all night" thing but that just made my hands sweaty and I didn't see any difference really.
So yes, Dove Pro-Age hand cream is light, creamy and very moisturising. It takes a while to be absorbed but in light of how well it works, I don't mind.