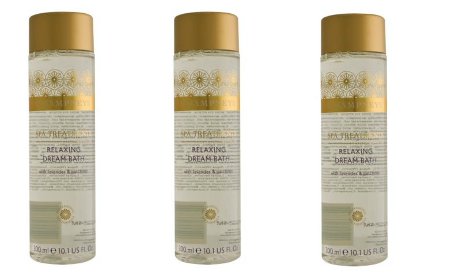 My first every experience of Champneys was in the bathroom of one of the poshest hotels I've ever stayed in. It was a romantic weekend away and I even helped myself to the left over shampoo that we didn't finish. So in my mind, Champneys has always been a really luxurious brand.
A few years later I was really surprised to find it, not only in Boots, but at a really affordable price too, and since then, I've always had at least one or two Champney products in our bathroom – which is no where near as posh as the hotel.
Recently I started using the Champneys Spa Treatments Relaxing Dream Bath, which is a lavender scented bubble bath, which they promise will leave you feeling relaxed and your skin moisturised.
First off, the ingredients. It's not a bubble bath I'd recommend for someone with sensitive skin or eczema, as it contains SLS, Parfum and a couple of other hard to pronounce names. However, if your skin can handle 'regular' products, this should go down really well.
The Dream Bath makes tons of bubbles and they last pretty much for an entire bath time – in fact I've climbed out the bath and there's still a good covering of foam, which I found quite unusual. Normally the bubbles are gone long before the water cools down.
The smell is beautiful. I love lavender, but being pregnant I struggle with overwhelming smells, so I've loved the subtlety of this.
I haven't found it hugely moistening, but I can't really blame Champneys too much for that, as I do have a very dry skin, and never find bath products moisturising.
For £6, I have to admit that I'm quite pleased with Champneys Spa Treatments Relaxing Dream Bath and I would definitely buy it again, if only for the quality of the bubbles.