Zenith Home Energy Saving Kit Review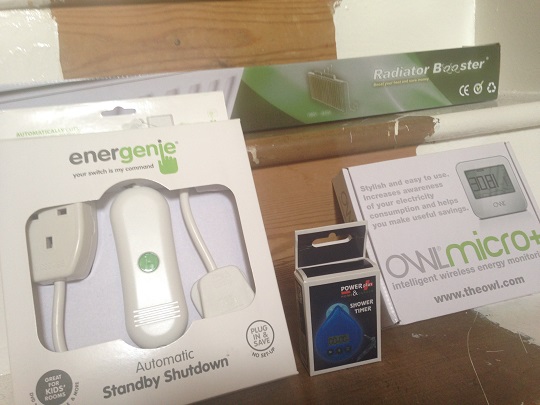 Save money on your energy bills. You know that you're the person paying the household bills when those words sound exciting. Finally, I feel like the grown up!
Zenith were only known to me as the windows people. Double glazing, conservatories, porches, garage doors, that sort of thing. The company has also launched a home energy section on its website with lots of practical info, blog posts on energy savings stuff, and other information. The company also sent us a Home Energy Saving Kit to try out, and see how you can improve your energy use with a few simple gadgets. Read on to find out how they worked.
The Zenith Home Energy Saving Kit included an Energy Saving Monitor, Radiator, Booster, Shower Timer, and an Automatic Standby Shutdown device.
First up the Energy Saving Monitor. Now, I have to confess that I've actually already been using one of these for about four years now. The Owl Micro + Intelligent device  (£26.95 at Amazon) does have one big advantage over my older monitor. It is a LOT smaller!
If you are serious about cutting down on your energy consumption, then one of these monitors is really useful. One end connects to the mains supply, while the other end is the display. We keep ours in the kitchen. You can programme in your tariff, and it will take a dual tariff, and there are settings to show how much you are using and also how much it is costing you.
Does this work? Well it certainly helped us cut down a lot. We have a three bedroom semi detached and I know that my bills for gas and electricity are about the same as people living in two bedroom apartments.
It makes you far more aware of how much electricity is really being used even when the house is completely empty. We now switch off everything at the wall for example.
However, there are times when that's not so easy to do. Perhaps you have teenage offspring? Your choice is to constantly go into their room to turn off at the wall, or constantly nag. Or maybe you just hate having to plug in everything when you go to use them?
Enter the Energenie Standby Shutdown device (priced around £12.99 but available at the time of publishing for £3.49 with 24Studio). This can be used to turn off the mains power to devices automatically, when your appliance goes into standby. So, for instance, you're off to bed. You click the off button on the TV's remote control, but actually that only puts it into standby. After two minutes, the Standby Shutdown will cut off the mains power. To switch back on, press the green button the device.
I didn't really get a lot of use out of the Power Plus Shower Timer (£4.24 from EcoGreenStore, plus £2.39 delivery). Maybe there's something I am missing? It is basically a sort of stopwatch, so you can time yourself in the shower. Perhaps a handy device if you have older children, or for other people in the house. But I already have a sort of shower timer - the school run. If I get more than 5 minutes to have a shower in the morning I am very, very lucky indeed!
However, using the Shower Timer I discovered that in fact I manage to shampoo, condition, and shave in 3 minutes most days. I won't be feeling so guilty now when I let myself have a 20 minute hot shower once a month!
The Radiator Booster Mk 3 (£19.99 at The Hut) is a device that come second in being the most useful investment you can make, after the energy monitor. I say might because I couldn't really test it out. The booster takes hot air from a radiator, and using fans, sends it around the room. So very handy if you have a room with cold spots.
The booster plugs into the wall, and you place it on top of the radiator against the wall.
It certainly seemed to work well, but it was hard to judge as our room didn't have any cold spots. Also the other downside is that it needs a wall plug, and we didn't have one near the radiator. I had to use an extension cord that ran across a doorway, not idea. So outside of the testing period, I won't be using this device I'm afraid.
Finally, there's the tips page on the Zenith website. If you want to keep up with information on grants, new products, and tips then it is worth visiting now and again. Overall though I found the top tips to reduce energy wastage provided by Zenith have certainly been working well for my family for the last four years now. Switch everything off at the mains, don't overfill your kettle, change to a 30 degree wash, and cut down on the time you spend in the shower.