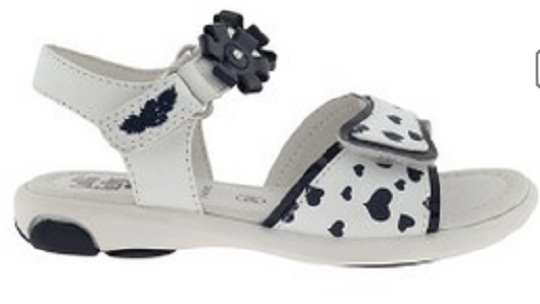 New season new savings! Get an incredible £19.90 off these cute girls' Lelli Kelly Cuori sandals from Shoes.co.za. Previously £44.90 they're marked down to an unbelievable £25! With this kind of saving and the wide variety of shoes on offer at Shoes.co.uk you can shop for the whole family online and, if you're prepared to wait 48 hours, delivery is free!
New this season from Lelli Kelly is the pretty navy Cuori Sandal. Patterned with hearts, these sandals feature interchangeable straps to give a choice of summery flower petals or a smart bow, perfect for a party! Lovely and comfy to wear, the uppers are made out of leather allowing little feet a bit of give as they grow.
I don't think Imelda Marcos loved shoes as much as I do and my daughter is following closely in my footsteps. As soon as she could walk she's been wandering around the house in my heels (always the red ones – strange..) Shopping with her is a nightmare – actually getting out of a shoe shop with only ONE pair of shoes is a nightmare which is why I love shopping at Shoes.co.uk. Their fashionable range of shoes, boots, sandals, trainers and outdoor footwear makes it so easy to buy shoes for the whole family – and I don't have to deal with a tantrum in a shoe shop! So don't let your little girl miss out on a pair of these this summer.