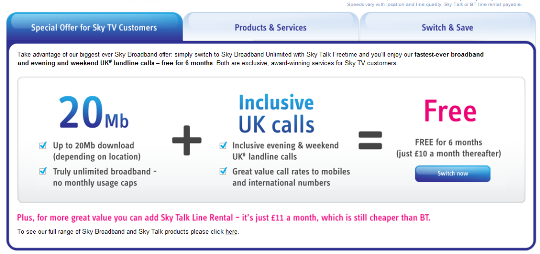 Quick! Nab yourself free unlimited broadband from Sky right now so you don't miss out on a single PlayPennies post. No, seriously, how else would you have known about this superb deal? It will be absolutely free for the first six months and then £10 afterwards. 
There are, obviously, a ton of terms and conditions attached to this deal and one of them is that you have to be a Sky TV customer. Do not despair, however, should you not be one of those lucky enough to have Sky every day. There are some ace special offers for joining Sky right now too so you can always get it as a nice present to yourself.
The free broadband offer is subject to your location and you may expect to pay set-up fees. Ask all the right questions w hen you first give them a call. I know that this all sounds like an enormous mission but if you're in the right area and have the right equipment this is a huge money saver. 
Paying only £10 a month afterwards for a deal that includes free unlimited broadband and inclusive evening and weekend landline calls with special rates for mobiles, is a big money saver. Do the maths and see if this works out as a superb deal for you!
Thanks to torybarsteward at HUKD!