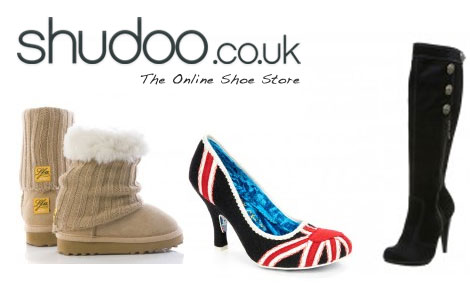 I've got a rather lovely Shudoo discount code for you that will give you 20% off at the checkout.
Discount: 20%
Minimum Spend: £0.00
Discount Code: autumn20
Excludes: Ugg boots (sorry)
Expiry: 6 November 2010
Click HERE to shimmy on over to Shudoo
I love shoes and I have more than a few pairs stashed away in boxes under the bed and stacked up in the bottom of my wardrobe.
I like choice you see, I like to be able to choose from a variety of shoes...although in reality I end up choosing the same few pairs *sigh*
However, for true shoe addicts, few things will make the heart soar than discounts on shoes.
A very good friend of mine has rather 'interesting' taste in footwear and there are some hideous ecclectic creations on the virtual shelves that she's bound to use this Shudoo discount code on.
I, on the other hand, prefer simple shoes either flat flip-flops for hot Christmasses away or five inch killer heels to go with my little black dress for parties.
There's no minimum spend necessary and UK delivery and returns are freeee - we do love free delivery here at PlayPennies.
Happy Shudoo Discount Code shopping!
Thanks to rose_cat_ jr over at HUKD