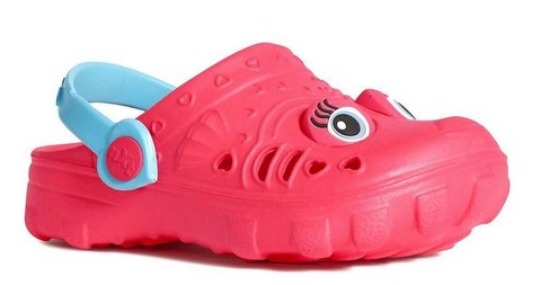 Next have issued a safety recall on these Children's Fish Face Sandals due to a choking hazard, as the plastic eyes can become detached from the shoes. All sizes of the shoe (item number 829651) have been recalled, and it was made in sizes 3 to 12. Here is what the recall states:
We have identified a problem with the above sandals.

Unfortunately, it's come to light that there is a potential safety issue, where the 3D eyes could fall off, with the possibility that young children could choke, or gag on these small pieces. We would therefore recommend that you immediately stop using the product and contact us.

Please call us on 0333 777 8185 to arrange a collection, or return them to your local store (for a full refund), if this would suit you better. If you have given this item as a gift, please ask the recipient to contact Next.

We're very sorry for any disappointment and inconvenience this may cause, but we hope you'll understand that customer safety is a high priority for us.
The last time Next issued a recall not all customers had been contacted about it, so if you know someone who has these shoes please make them aware of the issue.
Click here to see the recall notice on the Next website.
Thanks to Bitter Wallet for the information.