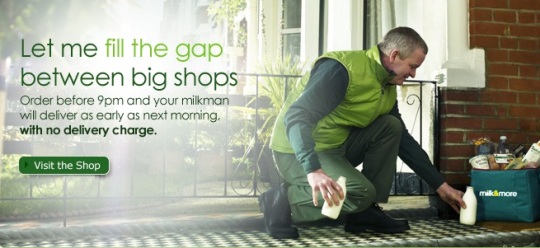 This is a stonkingly good milk&more voucher that gets you two weeks of free milk to the value of £10! What more could we possibly want from a freebie, I ask you this? I mean, milk not only tastes scrummy but it is excellent for growing bones and teeth – just what your little ones need this cold winter.
So, how do you get to claim your free milk? You need to visit the website (just click the link above) and enter in your postcode and meet your milkman. Then you need to register your details and your regular payment method.
Once you've done all of that, browse the shop and place your orders. In your basket, enter the voucher code MILKPPC and click GO. Confirm your order and you're done! It is that simple. Your £10 discount will be deducted from your first invoice. There are the usual terms and conditions, of course, but there is free delivery and you don't need to book a delivery slot either. Nice.
The offer is only open to new milk&more customers and the closing date is 31 January 2012.