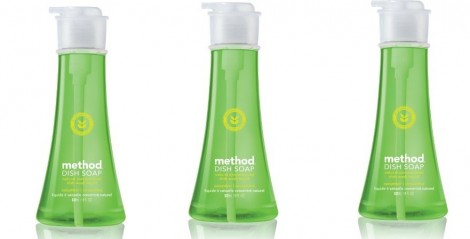 I have a thing for products that don't eat the environment alive and that have a neat footprint and yet still manage to do the job. Now, with most eco friendly washes, they do the job but not quite as well as the hardcore evil ones that include things that kill the planet. This is understandable and, frankly, an acceptable trade for me.
Method Dish is a dish soap created from coconut oil derived biodegradable cleaners that are gentle on the environment. The included Aloe and Vitamin E care for your hands as you clean and are also kind to the planet. The soap is good but it doesn't quite handle fat or grease as well as a more violent dishwashing liquid. I have washed pans after a roast and found that there is some slickness left on the pan that needs an additional rinse.
However, this is a fair trade. The bottle is beautifully designed with a long swan neck and an easy pump. The scent – I got the cucumber one – is utterly divine. I have spent many minutes post dish washing sniffing my hands and sighing happily. I even use it on my counters so they keep that fresh cucumber scent.
The formula is super concentrated so apparently you don't need more than one, maybe two squirts, per wash.  I found that I needed three to four if it was a greasier wash. The price, £3 for 532ml at Ocado, is also excellent. This is a neat price point for a product that offers plenty of cleaning power along with genuine environmental benefits.
The formula is also very kind to your hands. We ran out of hand wash for a day and had to use the Method Dish instead. My hands didn't get as painfully dry as they would have with a standard brand.