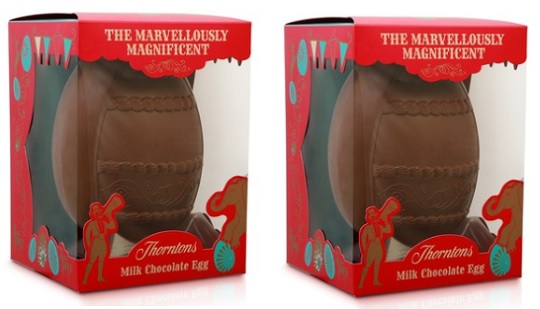 I've found my dream Easter egg. There's 1kg, yes KG of chocolate in the Thornton's Marvellously Magnificent Milk Egg and it's on sale for £15.00 when it was originally £25.00. I might have left it till the last minute to do Easter egg shopping but at least I get to take advantage of this £10 discount.
Buying an Easter egg as a gift for someone special? Thorntons don't include invoices in their orders, so you can have it delivered direct. What's more, while I can't find the actual deal details, when I put three Easter eggs into my basket the delivery charge of £3.95 was removed so they'll be delivered FREE, yippee!
Thorntons also offer gift a wrapping service, with a choice of organaza or paper wrap to suit any occasion or how about adding a personalised message to make it an extra special gift? It's free, and you might just make somebody's day.
1kg worth of Thorntons delicious milk chocolate, this is a fantastic Easter gift to send to a loved one, or to indulge in yourself. The Easter Bunny is on his way!