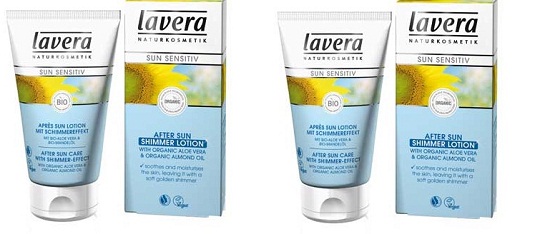 This is a very well timed deal for parents who want some lovely sun care products without spending a small fortune on them. Lucy Rose Organic has put a buy one get one free deal onto the Lavera Shimmering After Sun Lotion which takes it down to under £5 per bottle, and they are giving away free Lavera After Sun Gel when you buy any Lavera Sun Care products.
The discount for the Lavera Shimmering After Sun Lotion will be taken off automatically at the checkout so don't worry if you add on two items and see a scary total of nearly £20. That will be shaved off when you click ion Review and Checkout.
You won't be eligible for the free Lavera After Sun gel when you buy this special offer, that only gets added (again automatically) at the checkout if you buy a full priced Lavera product. Still, these are both lovely offers that are well worth looking at if you prefer organic over scary chemical sun block.