Lego Friends Heartlake Pet Salon Review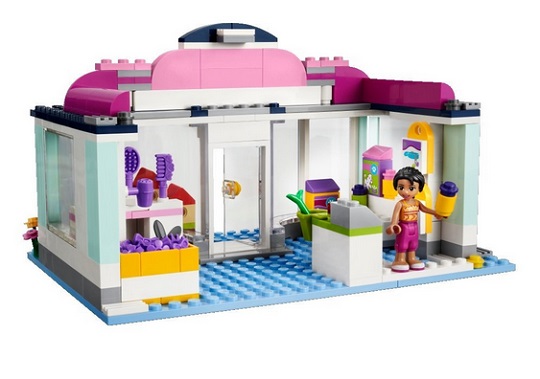 Yesterday I went out to the shops and bought my daughter the Lego Friends Heartlake Pet Salon *. When we went to Toys R Us (which is where we got our lovely set) I didn't have a "Girls" or "Boys" Lego set in mind. No. In my day (cough) Lego didn't have gender slapped on it, you just got something you liked the look of and you built it.
Today, GIRLS get PINK Lego that sits in one tiny PINK section of the store. The rest is branded in BOY colours – green, blue, black, red – and is quite possibly far cooler than anything Lego Friends has ever produced. Star Wars, Ninjagogo, Pirates of the Caribbean, Treasure Hunters… The list goes on. And my daughter refused to look at any of them purely because she thought they were, "Just for boys, mommy."
What on Earth? I loathe this gender stereotyping right down to the very bottom of my being and I will be buying her a "boys" set next time I go to the shops, alone. The fact that I have to do this in order to get her to see how cool it is, really angers me.
So what does this say about Lego Friends Heartlake Pet Salon? Well, nothing really. I mean, in spite of it being labelled for girls, the set is fantastic and the quality is, as usual, superb. My daughter was initially worried that she wouldn't be able to do it on her own, but after five minutes she was utterly absorbed.
The pet salon is adorable and comes with cool puppies, fabulous accessories and the opportunities for pretend play are plentiful. It's a great set and it is good value for money with tons of cool extras and pieces. I do recommend it, and it is currently on sale on Amazon.