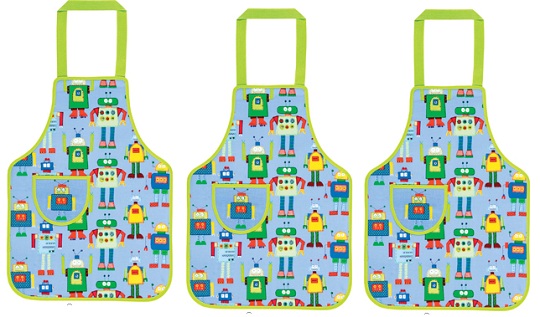 This kids PVC apron with colourful robot print is a bargain at only £10! PLUS Ulster Weaving offer the matching cotton robot hat. Delivery of parcels up to one kilogram takes three to five working days via Royal Mail Second Class and costs £2.90.
My kids are dead keen on messy play – the messier the better - while I'm dead keen on preserving their clothes. This Ulster Weavers designed PVC apron with pocket makes us both happy. It fits ages three to six and can be wiped clean with a damp cloth. No more (supposedly water-based!) paint stains on white t-shirts ever again! Plus if your little one is a chef, get the matching cotton chef's hat for just £6.
Ulster Weavers offer a wide range of designs of PVC and cotton aprons – from bugs to farm animals and enchanted wood characters, you're guaranteed to find something for every taste. Ulster Weavers also offers tea towels, bags and tea cosies so check out their site – they currently have a sale on the Queen's Diamond Jubilee merchandise. From aprons and oven gloves to bone china mugs and tea cosies they're a great pressie for the royalists among us!