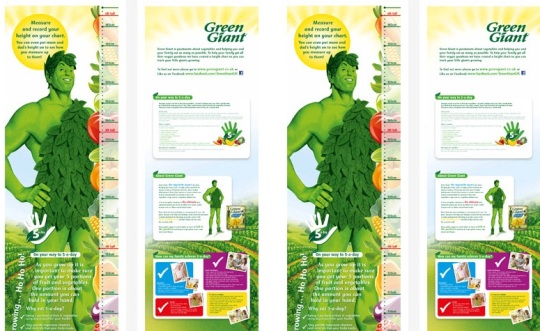 This fab freebie is back on with the Green Giant Facebook page and there are, as of this very moment, 4070 free Green Giant height charts still up for grabs this month. Apparently they are going to give 5000 of these away every month so if you miss this one, don't worry there is always March.
To get your free height chart from Green Giant you need to Like their Facebook page. Once you've done that you will then be asked to click on a link that says Get your Height Chart here! Do that, it's not too hard (grin) and you will be asked a series of questions.
The questions range from what age you are, your name and email address, to your postal address. That's it. You then click on Finish and your Green Giant Height Chart will be on its way to you in no time at all.
The free height chart has the Green Giant across the length of it as well as tips and encouragement to get your kids eating healthily. It's an ace freebie!