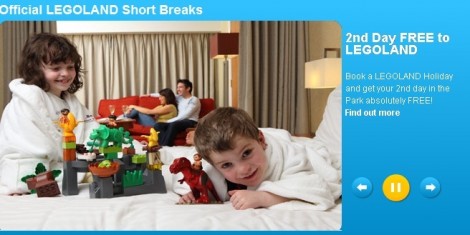 Right, so this morning the awesome Lynley discovered a deal where parents and toddlers get in to Legoland for £15. Well, not even ten seconds ago an email pinged into my inbox telling me that Legoland Holidays are letting kids go in for free if you book by Thursday 30 June 2011.
Now, this is not Legoland itself but rather Legoland Holidays so you aren't paying just for the day here. If you book a break throughout June, July, August, September and October, even on peak school holiday dates, then kids will go free.
A family of four can enjoy two days in the park and one night's stay at the nearby family friendly hotel from only £119. All of the holidays include a second day free. Legoland has loads of rides, I know this because I was poking about their website yesterday. I am going to the launch of their new Atlantis Submarine ride on Sunday (I can't WAIT) and if it is as good as it looks, I reckon I'll be nabbing one of these deals for the school holidays.
I think it's pretty cool that all the theme parks are throwing special offers around at the moment. What do you think? A good way to spend your break or not?