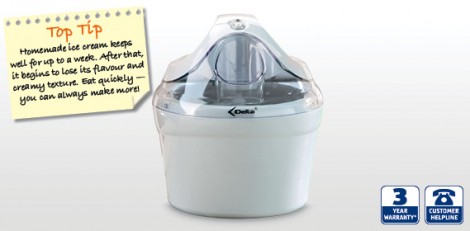 While the weather is definitely not living up to the idea of "summer" and I have spent a good few days glaring at the sky (it's making no difference), perhaps it will all turn around and we'll actually be warm and toasty at some point this year and then this deal will be awesome. Aldi is selling this ice cream maker for only £19.99, a great deal for lots of lovely homemade ice cream.
The Aldi ice cream maker has a 1.4 litre capacity and can produce approximately one litre of ice cream at a time. There is not a lot of information about what ingredients are needed so I can't tell you if this works out cheaper than shop bought, but I am sure it will taste far better than a cheap ice cream tub.
It will take you about 40 minutes to make the ice cream and the tub comes with a reversible built-in thermostat. The paddle turns both left and right and the ice cream will keep for up to a week before losing flavour and texture.
Thanks to Loopijuice at HUKD!