I adore Halloween so you'll have to forgive me one last post that talks about how to throw an awesome Halloween party without spending lots of money. I've gone out to find some great ideas and then dug up delicious deals so you can get your ingredients cheaply.
Spoonful.com has loads of ideas for creating frightening Halloween party appetisers such as the edible eyeballs made of olives and carrots. These are healthy and creepy which is a total bargain. Other genius ideas are their apple slices with nuts shoved into them to look like teeth and the skeleton cat made from biscuits, celery, tomatoes and more. Just awesome. Honestly I get blown away by how creative people are and this skeleton cat is a total winner.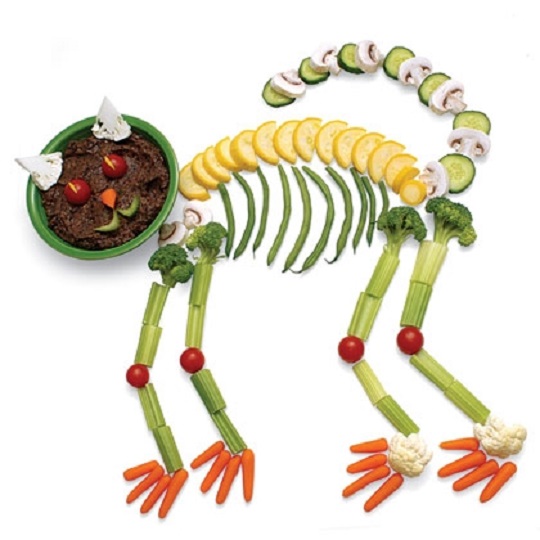 Now you need to go out and get all the ingredients for these cool and healthy Halloween snacks. So, visit the very helpful section on Hot UK Deals* called Groceries and take a look at what's on offer. Just a quick glance at the landing page shows cheddar cheese and biscuits at discounted prices so half your cat is already sorted out. Brilliant.
Netmums has some ideas for Halloween Games that are definitely going to be as more fun to do than tidy up. Sorry! Apple Bobbing is, of course, a staple of any good party, never mind Halloween, and hardly needs instructions but they have them anyway. However, other ideas include Guess the Ghost, Ghoulish Guess What and Dead Man's Last Meal (hahaha).  With these ideas you definitely won't be left without anything fun to do during the course of the party.
Looking for cool Halloween decorations on a budget? Well we have a few tricks up our sleeve.  You can visit HUKD as mentioned above and just search for Halloween stuff and see what you can find. There is loads on offer. I also recommend visiting Tesco *and Sainsburys* instore as they often have really good Halloween décor at low prices. I have bought some great stuff from them over the years and none of it has broken or fallen apart. Last year I couldn't move for funky Halloween stuff at my local Tesco!
Another one stop cheap and friendly shop is Poundland. They have Halloween stuff for, erm, a pound. And eBay deals occasionally throw up some fantastic deals on items that other people got in bulk or don't want anymore. I recently got a really brilliant fake tombstone set off eBay worth around £60 for only £15 and I love it.
Party City have ideas and tips on how to create cocktail parties, spooky mantels and DIY decorating. They are trying to sell you their stuff, of course, but there is nothing wrong with browsing the shop to get some inspiration for your own home. You don't need to buy from them, but take a peek at their tableware section as they happen to have 50% off at the moment.
Martha Stewart is one of my favourite websites. I'm not sure what that says about me, ha! Still, her ideas are nothing short of genius nine times out of ten, so it is worth visiting to see if there is anything there you can do. Pop goes the Pumpkin is excellent and budget friendly for parties and they have invite ideas, a pumpkin carving party idea and even masks and décor ideas.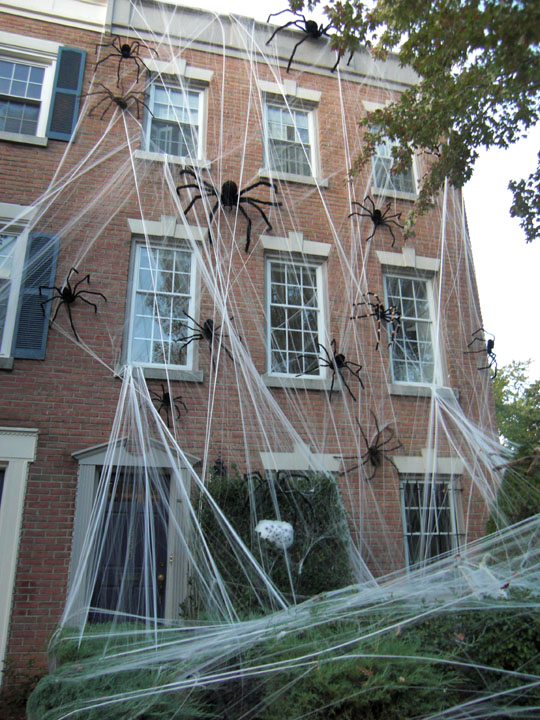 Mumsnet's spooky recipes are utterly icky. They are also some of my favourites. These just won't do for a party with very young or sensitive kids, but for older kids and adults they are nothing short of genius. I have to admit that I am always impressed with how well these recipes turn out and really enjoy watching people go, "EW!" when they first see them on the table.
There you have it, some truly cheap and simple ideas to get started with your Halloween party. Next week I am going to look at really easy and impressive ideas for Halloween food. I think you can present an utterly horrific table without spending too much time or money on it all and I plan to prove it!