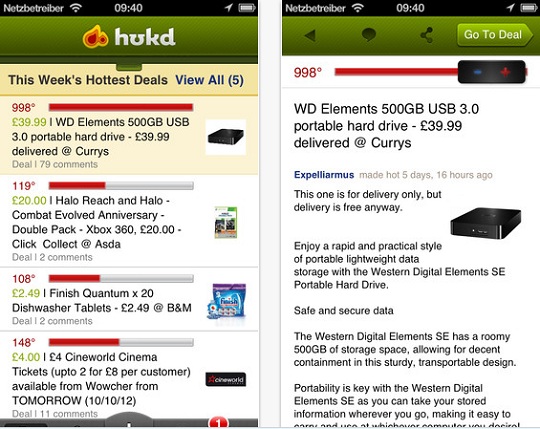 Have you, like me, sat on a bus or a train and suddenly thought, "I really should get my Christmas shopping done!" And then tried, slowly and painfully, to find deals and discounts on your mobile phone, only to give up in despair after the last page took an hour to load? Yes. Well this is a problem of the past now. You can download the brand, shiny new Hot UK Deals app to your iOS or Android device and grab deals on the run.
Download your version of this official app from the official app stores – Apple Store or Google Play – and spend a minute or two exploring. You'll find it rather self-explanatory really. First off, please download the official app by HotUKDeals not the other ones that are listed when you search for the app. And don't worry about charges, the HUKD app is completely free.
Once you are downloaded and installed you can instantly see the latest deals that have been voted hot by the community, discover local deals, search the database for up-to-date voucher codes, set up notification alerts for specific keywords and search for specific items. If you want to keep your screen on the deals for kids and parents just tap on the little tab that sits just below the HUKD logo at the top and then select Kids under the Topics menu.
My personal favourite has to be the red bars that fluctuate as you scroll down the page so you can see how HOT a deal is! Awesome.