Extra 20% Off Sale Shoes: Starting From £1.59 Delivered @ Shoe Zone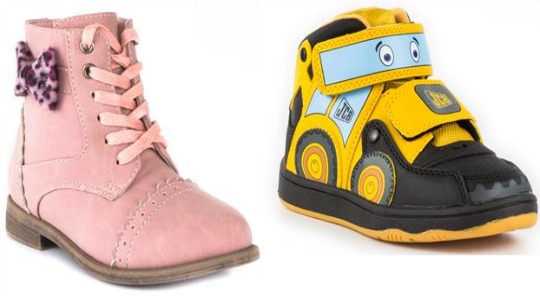 Shoe Zone is the place to go for the cheapest shoes ever. When at full price you can easily grab a pair for £15 and under, come the sale and the bargains are great. Now Shoe Zone will apply an extra 20% off on any shoes in the sale. The discount comes off automatically and there's no faffing around with codes. Remember, delivery is completely FREE!
Constantly replenishing children's shoes is so costly but not when you can grab a few pairs in deals like this one from Shoe Zone. Items start from just £1.59 so you can get lots for your money.
Needing slippers for the kids? Check out these: Black and Navy Football Slipper* now £1.59, Hello Kitty Mule Slippers* now £3.19 and Fireman Sam Blue Slipper* now £3.19.
The choice of girls' shoes is fantastic and there's lots of nice ones like these Walkright Girls' Shiny Snow Boots* now £6.39.
Other bargains I came across were the George Backpack* now £5.59, Girls' Pink Bow Boots* now £7.99 and Boys' JCB High Top Trainer* now £11.99.
Remember, there's FREE Delivery on ALL orders, or you can Click and Collect which is also FREE.