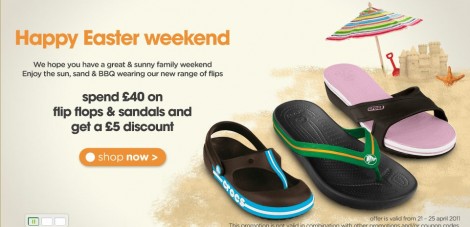 Crocs have brought out a rather fantastic new range of shoes, moving away from their image of plastic clogs – although they still make those – to a lovely range of stylish and apparently as comfortable shoes for women, men, boys and girls.  As an Easter treat that won't make you fat, they're offering £5 off flip flops and sandals when you spend over £40.
Click here for £5 off Crocs sandals and flip flops this Easter
Anything else: Free shipping on orders over £70
I have to admit that when I hear about Crocs, I kind of roll my eyes. I'm sorry, I don't care how comfy they are – you look ridiculous. So, under any other circumstances, I would have walked on by without a second glance. But, a few weeks ago I happened to see shoes I really liked, then discovered they were Crocs and I was very surprised.
I am a fan of the now very popular shoes-that-tone, so I like the look of these Crocs Tone Skylar flipflops but among the more expensive in the range(£34.95), they don't qualify on their own, so I could add theseKids Tropic Flower flipflops (£19.95) (or the Kids Dino Camo, more suited to boys at the same price).
That brings my total order to £54.90, minus £5, but then you have to add £4.95 for shipping, bringing your order to £54.85, effectively making your shipping free. (Or throw in another pair and your shipping is free too.)
So, although it's only a fiver, it still gives you £5 back to don your new flipflops and take the kidlets to the park for an icecream.