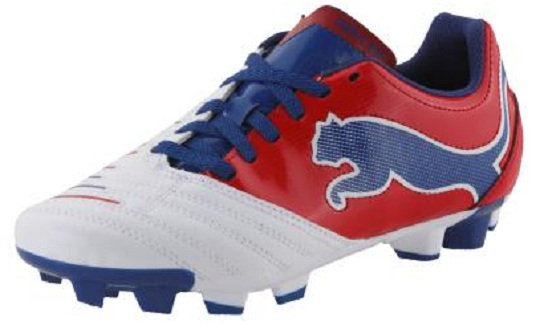 Puma is having an up to 50% off sale on selected sports and leisure items. These trendy Kids Powercat 4.12 F6 football boots which were £30 have been marked down to only £21. This price includes VAT of 20% plus shipping. Shipping takes one to two working days to get clicking now!
Let your little football fan look like a trendsetter and play like a professional in these unique PowerCat 1.12 star look football boots – just like Cesc Fabregas. The ultra light TPU outer sole allow for direct transmission of energy onto the pitch and increases the contact area. The slanted lacing system provides stability to the foot and the specially arranged, abrasion-resistant studs help him grip the field and are especially suitable for harder surfaces.
Not being a football fan but I do understand the Off side Rule so I reckon I can speak with authority when I say that if you look like a Premier League Player you're more likely to have the psychological advantage (no matter what your skills are like!). So help your little footballer to Bend it like Beckham in these Puma Powercat boots. Hurry – there are only a few sizes left and the sale ends soon.