Adams Kids has a brilliant sale on just now, both in-store and online.
There are so many cute items at really affordable prices that I had a hard time deciding what to pick out to post here.
Then I clapped eyes on these adorable red boots.
Usually £16.99, they're now just £8.49 and they're still available in size 3,4,6 and 7. (So basically if your little lady is a 5 you might as well splash out on the size 6 and put them away until the next growth spurt.)
Adams Kids has this to say about these: "Just picture these glorious red boots with a pair of woolly tights and a cute mini skirt, layered with a chunky knit cardigan. They also go lovely over skinny jeans - and have got a crinkle-gloss finish (giving them a vintage-patent effect); brogue paneling and three red decorative buttons down the outside. Zip fastening makes them easy to get on and off whilst the flat rubber sole gives her sure footing."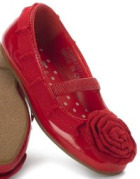 And because a girl can never have too many pairs of shoes, I should also point out that these cute red ballerina pumps are now just £3.99 instead of £7.99. They have sizes 3,4,5 and 6 left in stock. Perfect for partying, apparently!
Now I'm off for a sulk about the fact that neither of these come in my size. Pout.