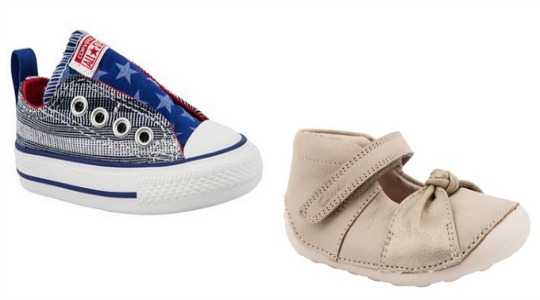 Kids needing shoes? Even if it's school shoes, get on over to Jones Bootmaker where they are offering 30% off of EVERYTHING. To get your whopping 30% discount just enter promo code SUMMER30 at the checkout. The whole site is included so you can even buy yourself a cheeky pair of heels while you are at it.
Jones Bootmaker sell those popular brands like Clarks, Start-Rite, Converse and more. You'll struggle to find such an offer as good as 30% off new lines anywhere.
Start-Rite Shoes* are extremely popular and I am a fan of their quality for sure. I thought they were relatively new as a brand but my Step dad still has his first shoe and it's made by them. I just LOVE these Start-Rite Boo Shoes*was £27 now just £18.90 with that code.
Converse* remain as that cool brand that the kids love. Check out these Converse bargains, with that promo code: Converse All Star Oxford Canvas* was £25 now £17.50 and this Converse Booties Set* is just £7.
Delivery is FREE on orders of £20 or more. If you are spending under twenty then just £2.99.