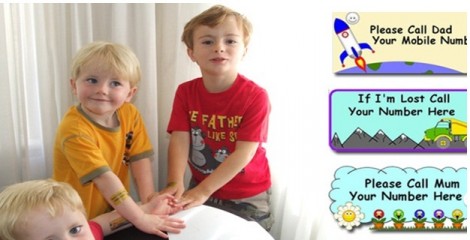 This set of tattoo transfers can be personalised with your mobile number and name and applied to your child for their safety. Selling for only £4.25 on LikeBees at the moment, these are an excellent device for when you take your child to a crowded place like a festival or event.
The price includes one sheet of 12 personalised tattoo transfers and postage and packaging. It is quite easy for little ones to get lost in the crowd – I can clearly remember the time I got lost at a busy shopping mall when I was little -  and it is terrifying for both parents and children alike.
Donna, a mum who's child wandered off at a local music festival, was inspired to launch this range of stickers to help other parents. PleaseCallMum offers a huge range of different Child Safety tattoo transfers that you personalise with your own mobile number. They come in a range of different colours and designs so kids will enjoy wearing them as much as you will feel better applying them.
What do you think? Genius idea or bad concept?
Thanks to goonertillidie at HUKD!