Playmobil Nursery School 5606 £14.99 @ Argos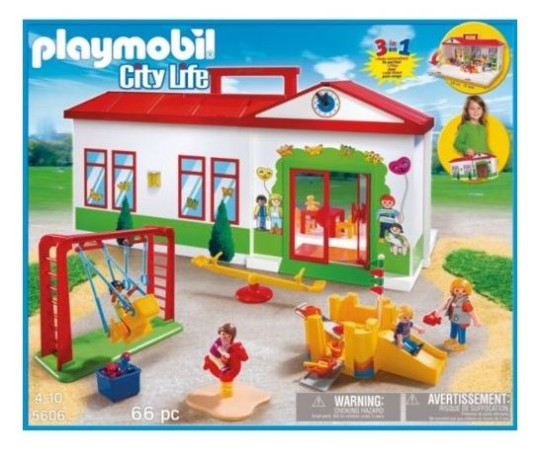 Argos have reduced the Playmobil Nursery School from £35.99 to £14.99 and while it's not available at a lot of places anymore, Amazon have it for upwards of £33 and eBay have it for as much as £54, so under £20  is a pretty good price, especially as you have to click and collect. It's in stock in 3 of the 5 stores around me, so I hope that's representative!
Now look, I'm  a LEGO girl. I have definite historic loyalty there. But the more I learn about and see from Playmobil, the more I really, really love them. Their sets are detailed, and generally such good value for money!
This set for example comes with lots of outdoor play activities for the (Playmobil) children. It includes a swing, a seesaw, a rocking horse and a sand castle slide as well as a large building for the children to learn and be creative. As far as people, theset includes a Playmobil teacher, her 3 students and lots of accessories - there are 66 pieces.
It also comes with a carry handle for moving around. I'm sure it'll bring many happy hours of play!
Thanks to amh81 at HUKD