Spiderman Wellies £4 @ Matalan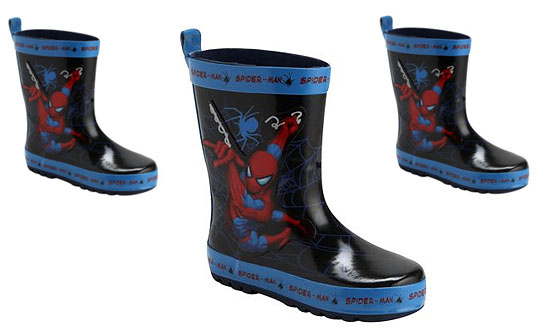 If you have a young Spiderman fan in your family then you should web sling your way over to Matalan as they're selling Spiderman wellies for £4, instead of £8, at the moment.
I wrote about pink Peppa Pig wellies yesterday and felt quite sad at the thought of all our PlayPennies boys not having any new shiny wellies to wear for splashing around in puddles; I feel much happier now I can restore some wellington boot balance with these Spiderman wellies.
Looking out of the window right now, you'd never know that it had rained almost non-stop in my little bit of the country for the previous 48 hours - the skies are clear, it's bright and sunny (and more than a bit chilly!) and splashing in puddles today would not be on the agenda.
However, this is England we're talking about and there will, without a shadow of a doubt, be plenty of opportunities for young Spidey fans to wear their Spiderman wellies during the coming months.
They are currently available in infant sizes 6 to 13 and junior sizes 1 and 2; standard delivery costs £3.50, next-day delivery is £4.95 and will be next day if you order before 5pm.
I can't see anything that suggests you can arrange to collect your Spiderman wellies in-store for free and have no clue whether they're being sold in-store for the same price - if you live close to a Matalan it may be worth popping in and having a look.
Thanks to pluckster11 at HUKD