Up To 60% Off Sale: Items From £3.90 Delivered @ Crocs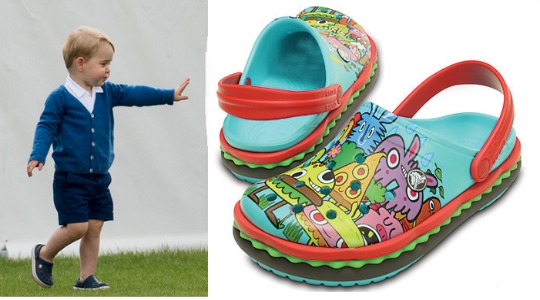 Call me a sheep but I bought my 16 month old son a pair of Crocs today. Why? Prince George has well and truly set the trend. Looks like I am not the only one as the sale of Crocs goes up 1500% since he was spotted wearing them at that Polo Match. They have a sale on just now and whilst those exact ones aren't included, there are similar and some really fun ones too. They offer FREE delivery and items start from only £3.90.
If you are looking for something Prince George would maybe wear then these Kids Retro Clogs* come in that famous Navy and Red combo. They were £29.99 and are now only £17.99 delivered.
Maybe you are not giving two toots about what PG is wearing and want some cooler footwear for the kids. Check out these: Crocs Burger Clog* was £34.99 now £14 delivered, Girls' Keeley Petal Charm* was £19.99 now £13.99 delivered and Kids' Crocband Star Wars Stormtrooper Clogs* was £26.99 now £18.89 delivered.
Crocs are nice and light for packing in suitcases. They are very handy for taking on holiday, comfortable enough for walking and ideal for around the pool.