Cheap Hunter Wellies @ MandMDirect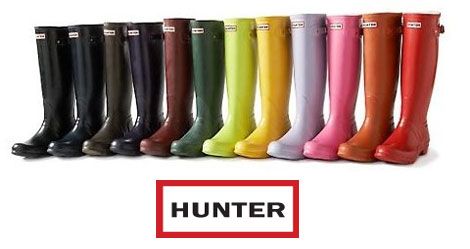 Girls! Head over to mandmdirect.com and you'll be able to bag yourself some cheap Hunter wellies - they have various colours and styles with, on average, £35 off the usual price, making them around the £45 mark; marvellous!
If you're heading for any festivals this summer then you are DEFINITELY going to need a pair of wellies, but don't be fooled into thinking that all wellies are created equal - they're not!
I will freely admit to being a wellie snob of gargantuan proportions; it's true, you won't catch me dead in wellies that aren't Hunters.  I've had several pairs during my wellie-wearing lifetime, my current pair are red and I have my eye on a gloss black pair, they just look really smart to me.
If you've never worn a pair of Hunter wellies you don't know what you're missing; they're comfy, last for YEARS but they are expensive compared to normal cheapo wellies.
Whether you want to break into the world of Hunters and become a fellow wellie snob, need a new pair, or are looking for cheap Hunter wellies so you can replace in advance and save yourself some cash, look no further!
There are a couple of delivery options available: standard for £3.99 (which includes you guys over in Northern Ireland too - makes a change hey!) or £6.99 for next-day delivery (which doesn't include you NI peeps, sorry).
Happy hunting for Hunters!